Remora offer superior end of tenancy cleaning services in London. Our teams are vetted and professional, and deliver a perfect service to your specifications every time.
Call us on (0207) 821 8852 or email us for a quote and a full list of our services.
Specialising in end of tenancy cleaning and pre tenancy cleans throughout London and the Home Counties, Remora now has over 15 dedicated teams, each one led by a dedicated supervisor, with experienced cleaners and all the equipment required to carry out a professional end of tenancy clean.
We have excellent capacity and can often do same day or next day jobs within the M25. We monitor our teams with advanced technology to ensure timekeeping is excellent, and provide a post clean report on every clean that includes photos of the work done, this is extremely popular with overseas landlords, property managers, and tenants looking to prove that their property has been professionally cleaned.
The government's own Tenancy Deposit Scheme explains that cleaning is the primary cause of landlord tenant disputes, which are often stressful, time consuming and costly. Our pass rate over the last 3 years averages at over 95%, meaning you are far less likely to receive deposit deductions or get into a stressful and costly deposit dispute over cleaning than with most other companies. If in the unlikely event anything is missed, we will always return as soon as possible and free of charge to attend to this – that is our guarantee.
As one of the largest end of tenancy cleaning companies in London, we work with the majority of London's major estate agents directly as an approved contractor, and so are well aware of the exacting standards required to pass an inventory check in or check out. Unlike many rival firms, our pricing includes everything most landlords and property managers require to be done, without hidden or additional costs. We can remove rubbish, furniture, clean upholstery, wash laundry, and even tackle outside areas and gardening on request, and are licensed by the environment agency as a waste carrier. If you need a reliable and professional end of tenancy cleaning company, you can depend on Remora!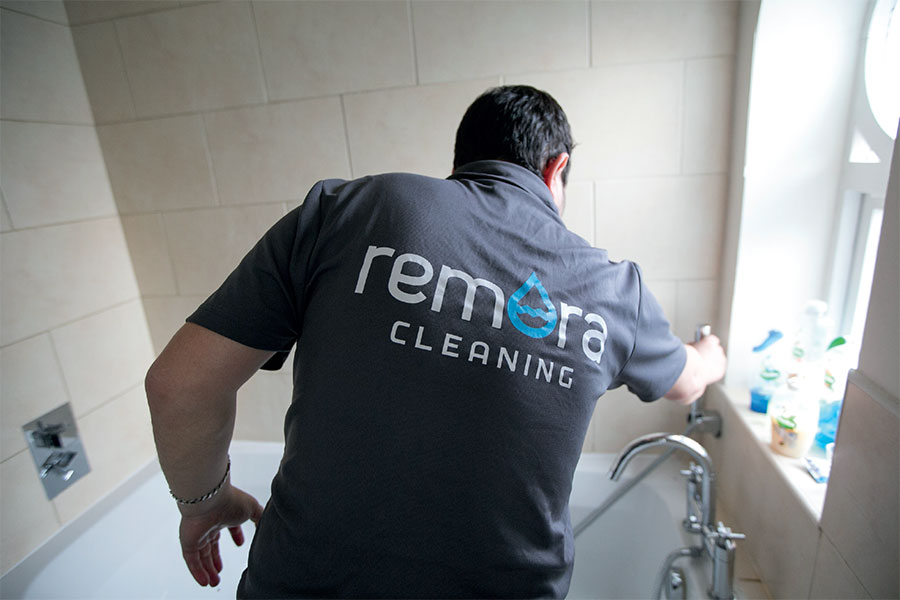 What to expect from an end of tenancy clean with Remora
Find out if the Remora end of tenancy clean is the right option for you
An end of tenancy clean takes the guesswork out of leaving a property. By ensuring you have a receipt confirming to your landlord or inventory clerk that you've taken the necessary steps to leave the property in tip top condition, you'll feel reassured whilst also guaranteeing you comply with your assured shorthold tenancy agreement (ASTs). The bottom line? You're giving yourself the best possible chance of a full return on your deposit.
As such, the decision to opt for an end of tenancy clean is an easy one. But you've still got to navigate the process of having a team drop in to give your home a thorough once over which can be an unsettling thought if you don't know what to expect. Far from having vast numbers of strangers traipsing through your home, the Remora end of tenancy cleaning service is a swift, professional and friendly one which will turn around your property in next to no time.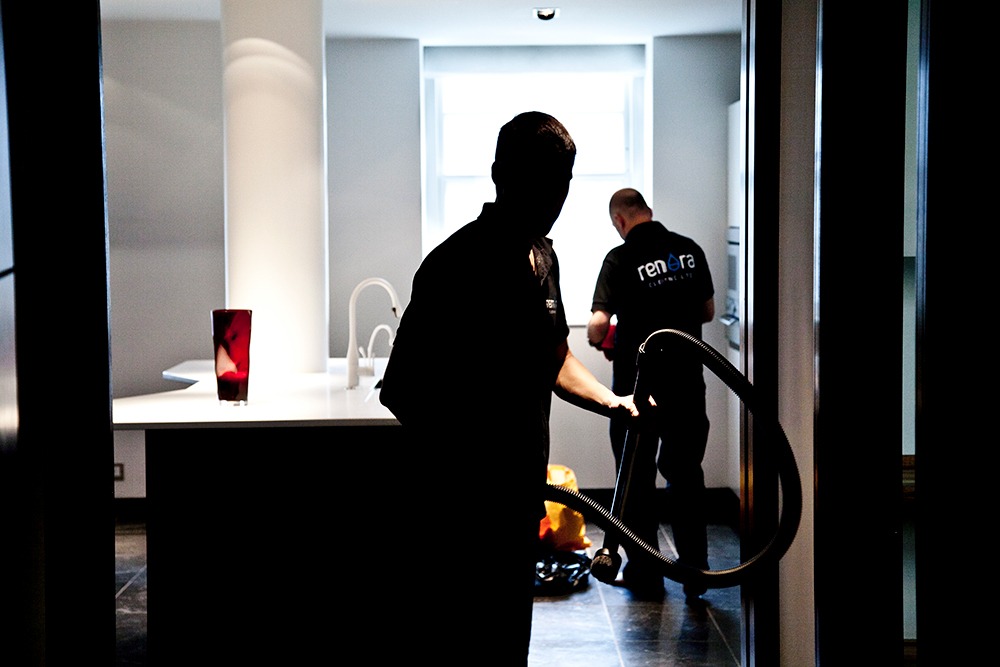 What do we do?
The Remora team will head over to your property, where you can either be waiting to let them in or you can arrange to have the keys collected prior to the cleaning date so that we can work while you get on with your day. The team will arrive fully equipped with all the tools and equipment needed to bring a breath of fresh air to your property. Our standard end of tenancy clean includes:
General
All woodwork (including skirting, units, chest of drawers, dado rails, curtains rails) to be dusted, cleaned and polished
All upholstery (mattresses, curtains, sofas) will be thoroughly vacuumed
All windows will be properly cleaned with professional equipment on the inside of the property and the exterior where safely accessible to our staff
We will wash linen onsite where possible – this is usually limited to one washing machine and tumble dryer load per clean (dependent on washing machine and tumble dryer being available in the property)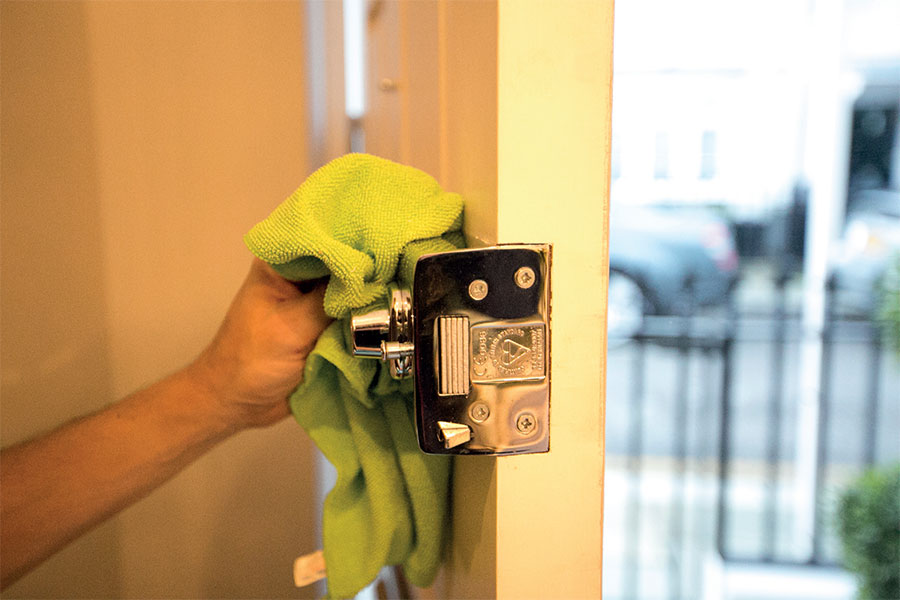 Kitchen
Cleaning all worktops and surfaces to ensure there is no debris or stains
Cleaning the inside and outside of the oven, hobs, extractor fan and extractor filter
Cleaning the washing machine including soap tray and clearing debris from the rubber seal
Cleaning the dishwasher and dishwasher filter
De-scaling and polishing any taps and metalwork
Cleaning of wall tiles including cleaning grouting where possible
Cleaning and defrosting of the fridge and freezer
Bins to be cleaned inside and out
Floors
Sweeping, hovering and mopping of all hard floors
Hoovering and full steam cleaning of all carpets
Bathrooms
All taps and metal work will be fully descaled and polished
Glass shower screens de-scaled, cleaned and polished
Wall tiles cleaned, including grouting where no damage will occur from cleaning it
Shower head, shower hose and other bathroom items to be descaled and cleaned
Mirrors to be cleaned, polished and left smear-free
Who is involved?
The highly skilled teams at Remora usually work in teams of 3 – 5 people, depending on the size of your property. Each of our trusted and professional members of staff will arrive onsite with identification and in their Remora uniform so you can rest assured your property is in safe hands.
How long does it take?
At Remora we pride ourselves on taking the time to ensure each room is dealt with as swiftly and efficiently as possible, without sacrificing on the quality of the treatment. As such, each property takes a different length of time to clean depending on the size, number and condition of the rooms. If you'd like to gain a better idea of the time needed to clean your property, give us a call or send us an email and one of our customer service advisors will be happy to help.
What options do I have?
The Remora end of tenancy clean can be altered to cater for your specific property, with optional adds on including sustainable cleaning products, steam cleaning of upholstery, curtains and mattresses and cleaning of the exterior of the property. Contact us for more information on services available for your property.
To find out how we process your waste click here
To find out more about our carpet cleaning services click here
Remora is a London-based cleaning and property services company, offering the highest levels of customer service and flexibility across our range of services. Find out more about what we can do for your property here.
Communal area cleaning
Remora offers cleaning services for shared residential and commercial areas, too. Whether for a group of private tenants with shared areas in their apartment block, or on behalf of management companies which administer entire blocks, we can provide weekly or irregularly scheduled cleaning.
Window cleaning
Windows are usually overlooked by during a tenancy, but grubby panes make a world of difference. Remora has staff trained to use the pole system up to the fourth floor. For larger properties, we can arrange abseil cleaning with a trusted partner.
Laundry
For property managers especially, laundry can be a service headache.
Remora offers a collect-and-return service for a flat fee plus per-machine load, as well as dry cleaning where required.
Waste control
Remora is an Environment Agency approved waste carrier and broker. Without this license, removing rubbish commercially is a crime, and the home-owner is liable for penalty from extremely zealous council enforcement.
Carpet and upholstery cleaning
Our services include stain removal and refreshing old carpets, priced per room or stair level to remove more substantial quantities of waste. Likewise, we can clean most soft furnishings to an excellent standard. Please ask us for more information.
Give us a call on 0207 821 8852 or email us to discuss your needs
"The guy who does our cleaning does more in two hours than our previous cleaner did in a month of two hour visits! And I prefer being invoiced to leaving cash out. Will recommend you for sure"





(SW3)
"We have been using Remora to clean our flat weekly, and they do a great job. We've also used their after party service and it saved my life twice so far!"





(SW7)